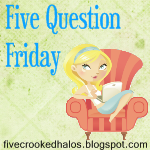 It's time for Five Question Friday with Mama M.
1.
Did you have a pen pal when you were little (or now)? Where were/are they from?
I had one from France, but we only wrote a few times, I would love to do that again though. How do you find one?
2.
If you could do a different job for one day, what would it be?
3.
Do you remember your biggest fear from when you were little?
Failing. It still is my biggest fear.
4. What do you think is a waste of time? Why?
hmm this is a good one... Regret, I guess, because it was what you wanted at the time and it's too late to change things.
5. What is the oldest item you have in your closet?
I'm a freak when it comes to my closet, if I don't wear it anymore I throw it away, give it away, get rid of it. Now that I'm thinking about it though, I have a pair of jeans from when Brandon and I first started dating. You know, those jeans that are just perfect and fit just right. Well they fit just right before 2 kids. I guess I'm hoping I will fit into them again one day...