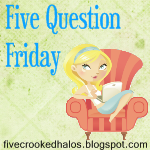 It's time for Five Question Friday with Mama M. I'm really excited about the questions this week!
1. What is the first nightmare you remember?
The house I grew up in had woods in the back and my older brother used to tell me that Freddie Kruger lived up there.I had a nightmare that he was at our sliding glass window trying to get to me.
Silly brothers.
I'm not really sure why I knew who Freddie Kruger was at such a young age either... probably my brother's doing too.
2. Even if you're not a sports fan, what's your favorite sport to play/watch?
I love sports.
I love to watch and play soccer.
I like to go to MLB games.
I like to watch Bengals football.
I love to watch gymnastics and cheerleading.
I love it all!
3. If you could pull off one piece of trendy fashion, what would you want it to be (jeggins, hats, thigh high boots, etc.)?
Definitely skinny jeans.
They are pretty much the only kind of jeans in stores right now.
Believe me, I've tried to buy a pair that aren't, they are few are far between these days.
I'm short, and my legs are short, and I just had a baby 9 months ago, so those don't make a good combination with skinny jeans.
4. Did you make good grades in school?
Yes and still try
5.
What magazines do you subscribe to?
I'm a magazine junkie.
Even the trashy tabloid ones.
I only have subscriptions to Parenting, American Baby, and Woman's Day.
I would like ones Vogue, Us Weekly, Photography, Real Simple, and Martha Stewart Living.
That's not that many...
I should get on that and order them.

Happy Friday All, I'm off to do laundry, pack, and clean for vacation!