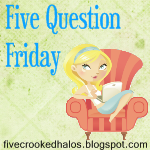 It's time for Five Question Friday with Mama M.
1. D
o you feel guilty spending money on yourself?
Terribly, but I'm working on it. I really need to buy myself some clothes because after two babies I'm not going to fit in my jeans from high school... I'm just now accepting this.
2.
How well do you know your neighbors?
Not well at all... but my hubs best friend just bought the house next door, so we will know him super well! I'm a little scared I will never see Bran again when he moves in... haha
3.
What age are you looking forward to being?
I love the age I am now. I'll stay this age for forever please.
4.
Do you get excited when the mail comes? Why?
Yes, I talk about how I love the mail in many posts: like here and here.
5. What is your earliest childhood memory?
I really have no idea on this one. I remember daycare when I was in the two year old room, so I'm guessing some of those memories.
What about you?