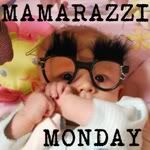 It's time for Mamarazzi Monday with Ann Maire at
Household 6 Diva.
I stalked my children most of our vacation in South Carolina, but there were a few moments that I just let them enjoy living, you know like when they were sleeping...
Since my life is a war path of being super busy I did not have time to edit any of these photographs, so you'll just have to enjoy them the way the camera intended them to be. :)
Raigan rather enjoyed the ocean even though she thought she was there to drink and eat the salt water. Riley loved it too, but we already knew that, as it was her third time to the ocean... lucky little girl!
What can I say other than there was no stopping her and the child loves to eat. She was so sneaky about the sand too, the 0.05 seconds I would look away from her she would have a fist full already in her mouth! By the time my reflexes reacted it was already too late.
Here is a photo I snapped of Riley driving our stroller around the villa. I'm terrified of the day she turns 16.
This is the closest we got to a family photo the whole trip,I love it though, it has such character!