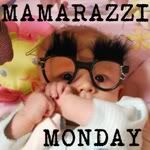 It's time for Mamarazzi Monday with
Household 6 Diva
.I missed last week, so I have to make it up this week! I have been keeping my camera busy. This is what I have come up with.
The many faces of Raigan:



It has been rather hot here in Kentucky.


So to get a picture of the girl's outside both together is a challenge to say the least.


Riley just wanted to jump on the trampoline and not get her picture taken.


I pleaded for just a few more!


And I'm glad I did, because I got this beautiful shot of sisterly love!


And then I let Ry jump!