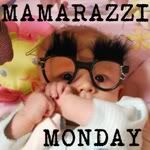 It's time for Mamarazzi Monday with Ann Maire at
Household 6 Diva.
Well it's not really with her since she is moving but it's still with her, you get what I'm saying. The location today is with Sarah at
Main Line Moms
. Link up all your family stalking photos over there.
I have about 5 minutes to blog today since school and life and cheerleading are in full swing. I have classes from 8 am to 9pm at night on Mondays. Crazy, I know. Speaking of crazy, here are my kids:
This picture is a little different, but I love it!
My Girls!
Riley's face cracks me up!
and the last one... Raggie yelling at me for taking so many pictures! haha